Harvest Moon Ball Chicago is knocking on the door!!!
North Shore Dance Society is going to participate and we figured that post like this one may be very helpful to all of the ballroom competitors.
If you've never seen a ballroom competition, it really is a shock to all of the senses; lots of shiny costumes, bright lights, loud music, high heels, and perfectly bronzed bodies parading around in the middle of winter. The floor is filled with dancers who train locally, as well as internationally, to compete for their own personal growth or a coveted Top Student award.
Our students have the opportunity to compete in Pro/Am rounds with their teachers or in the Amateur rounds with their partners throughout the weekend.
As our competitors prep and pack for the weekend, we wanted provide a general "checklist." (You can see why ballroom dancers can't ever pack light.)
General Supplies for each competitor:
□ Shoe Brush
□ Lint Brush
□ Safety Pins
□ Water Bottle
□ Towels (to wipe sweat)
□ Portable Fan
□ Scissors
□ Nail Clippers
□ Sewing Kit (or a stapler and some duct tape… seriously)
□ Tide Stick or other stain remover
□ Comfortable Travelling Clothes
□ First Aid Kit (tape, ice packs, moleskin, bandaids, pain relief medicine, etc)
□ Snacks
□ Blanket to sit on in the changing room
□ Cover-up Sweater, Spotlight Jacket, or Robe for between rounds
For the Guys:
□ Shaving Supplies
□ Hair Products
□ Bronzer (optional)
□ Shoe polish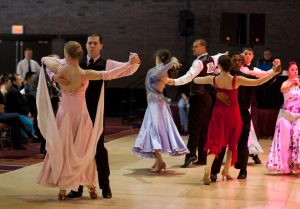 □ Makeup (optional) (foundation, eye liner, powder)
□ Makeup Remover (optional)
□ Black Socks & Underwear (+extras)
□ Latin Pants and/or Standard/Smooth Pants
□ Latin Shirt (+extra) and/or Standard/Smooth Shirt (+extra)
□ Latin Shoes and/or Standard/Smooth Shoes
□ Belt (optional)
□ Vest/ Cardigan (if needed for costume)
□ Jacket (for Smooth/Standard)
□ Tie or Bowtie
□ Cufflinks (optional)
For the Ladies:
□ Shaving Supplies
□ Hair Products (lots and lots of hairspray)
□ Hair Bands/Clips
□ Hair pieces (optional)
□ Bobby Pins
□ Hair Net (optional)
□ Bronzer (optional)
□ Makeup (foundation, blush, powder, lipstick, eye liner, eye shadow, mascara)
□ Makeup Remover
□ Bronzer
□ Fake Nails + Glue or Nail Polish
□ Clear Nail Polish for Pantyhose emergencies
□ Fake Eyelashes + Glue
□ Jewelry (earrings, necklace, bracelets)
□ Heel Protectors
□ Portable mirror
□ Shirt/Skirt or Dress/Gown
□ Extra rhinestones
□ Latin Shoes or Smooth/Standard Shoes
□ Fishnet, Dance Tights or Pantyhose (+extra)
□ Dance Pants (+extra)
□ Gloves (optional)
This article was found at Spotlight Ballroom and modified from North Shore Dance Society