North Shore Dance Society is extremely excited about the upcoming ballroom competition Harvest Moon Chicago.
We found a very interesting article with some great Reminders when we dancing.
We all occasionally forget things, especially at times of a ballroom dance competition. But, we shall remind you, dancer, of 10 little hacks you should definitely keep in mind.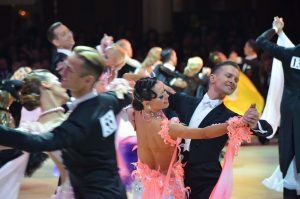 Warmup with your partner about 30 minutes before your heat
Eat bananas & chocolate at your competition day
If you feel slippery on that floor, use castor oil
Know, cherish, love and be friends with your deck captain!
DEODORANT!!!
Eyelash glue keeps your accessories on while you dance.
Hairspray will keep your hair solid.
Consuming LESS water before and after your heat will keep you away of the bathroom & it will keep your heart in a better shape!!!
"Tiger Balm" will help you when a muscle was pulled… North Shore Dance Society strongly recommend keep one in your bag!!!!
Judges will love you if your number is neat and secure !
North Shore Dance Society wants to thank dancecompreview for the wonderful article!